Bret J. Hintze, DPM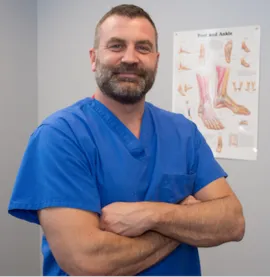 Dr. Hintze grew up in Salt Lake City, Utah. He received his Bachelor of Science degree in Medical Biology at The University of Utah. His doctorate degree was earned at the California College of Podiatric Medicine in San Francisco. Dr. Hintze completed his residency at Mount Sinai Medical Center in Miami with emphasis on foot and ankle reconstruction. Dr. Hintze is board certified by the American Board of Foot and Ankle Surgery in Foot surgery.
Dr. Hintze has been practicing locally for over 20 years and has been at the forefront of progressing foot and ankle surgery. He has worked on implant development, pushing the field in surgical outcomes while decreasing both pain and recovery time following surgery.
Dr. Hintze is well versed in all foot and conditions and has a special interest in reconstructive surgery, sports injuries as well as trauma. As a lifelong athlete and coach, his commitment to health and well-being is reflected in his patient care.
Education:
Residency:
Mount Sinai Medical Center Miami: Foot & Ankle reconstruction and diabetic wound care
Diplomat:
American Board of Podiatric Surgery
Board Certified:
Foot Surgery by the American Board of Podiatric Surgery
Fellow:
American College of Foot and Ankle Surgeons
Professional Organizations:
Georgia Podiatric Medical Association
---
Andrea D. Cass, DPM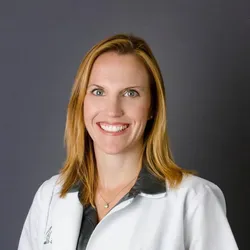 Dr. Cass joined Foot and Ankle Reconstruction of North Georgia in 2021. She has been practicing in the Atlanta area since 2009. Dr. Cass specializes in reconstructive foot and ankle surgery, with a special emphasis on Pediatric Reconstruction and Diabetic Charcot Reconstruction.
Dr. Cass is also a medical author, writing multiple chapters of McGlamry's Comprehensive Textbook of Foot and Ankle Surgery, 4th and 5th editions, which is a comprehensive surgical textbook used by thousands of foot and ankle surgeons worldwide. Dr. Cass has also authored numerous other scientific articles in the foot and ankle literature. She is a faculty member and lecturer for The Podiatry Insitute, an international teaching foundation for foot and ankle surgery. Dr. Cass has lectured in Germany and Spain and has been involved in medical missions to Kathmandu, Nepal. She also hosts international surgeons who come to Atlanta specifically to learn foot and ankle surgery.
Dr. Cass has unique training and interest in pediatric foot and ankle surgery. Having three young boys, she understands the importance of being able to trust the doctor caring for your children. She knows it is not just about helping a child's pain or problem, but also about having a child and their family feel at ease about their care.
She also treats adult foot and ankle conditions, including reconstructive flatfoot surgery, revisional foot and ankle surgery, as well as Charcot deformity, a unique condition that can occur in patients with Diabetes.
Dr. Cass was a competitive gymnast growing up and understands how debilitating foot and ankle injuries can be, and she also understands how important it is to getting back to life in a safe and timely manner.
In her freetime, she enjoys spending time with her family outdoors: wakeboarding on the lake, hiking through the mountains or biking on the trails.
Education:
The Ohio College of Podiatric Medicine
Residency:
DeKalb Medical, Decatur, Georgia
Board Certifications:
Reconstructive Rearfoot and Ankle Surgery, American Board of Foot and Ankle Surgery
Professional Memberships:
---
Dr. Suzanne clous
Dr. Suzanne Clous provides comprehensive treatment and surgery for all ages. As a board certified foot surgeon, her special areas of surgical interest are forefoot reconstructive surgery, especially the rheumatoid patient, and diabetic limb salvage. She also enjoys treatment of acute sports injuries, pediatrics, and skin/nail conditions.
Suzanne Clous, DPM is a native of Cocoa Beach, Florida. She has been in private podiatric surgical practice since 2005. Dr. Clous graduated with a B.S. in Physical Science, Mathematics, and Biology from the University of Central Florida in Orlando. Her doctorate was earned with honors at Ohio College of Podiatric Medicine in Cleveland, Ohio.
At The Cleveland Clinic Foundation, Dr. Clous completed an intense one-year podiatric medical residency in the Division of Orthopedics. Her training was then coupled with a two-year, foot and ankle reconstructive surgical residency located at The Western Pennsylvania Hospital/Temple University School of Medicine in Pittsburgh, Pennsylvania.