Treating Ankle Pain in Jasper and Woodstock, GA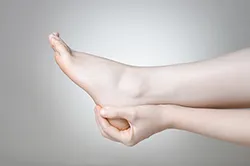 There are several types of ankle pain. Some are more severe than others and present different symptoms. Below are a few common types of ankle pain.
Ankle Sprain, caused by an unnatural twisting or force on the ankle bones of the foot
Chronic Lateral Ankle Pain, recurring or chronic pain on the outside part of the ankle that often develops after an injury such as a sprained ankle
Osteochondritis, a lesion that usually causes pain and stiffness of the ankle joint and affects all age groups
To Schedule An Appointment To Treat Your Ankle Pain,
Call Our Jasper Office At (770) 999-0804 Or Woodstock, GA Office At (770) 999-0703 Today!